All Events
29 June 2022 • 16:15 - 2 July 2022 • 23:00 | Tübingen
Tübingen Science & Innovation Days 2022
Knowledge creates future
Whether digitization or climate change, societal challenges need the expertise of science. But science also needs society – not least the pandemic has shown that challenges can only be overcome together and in dialog.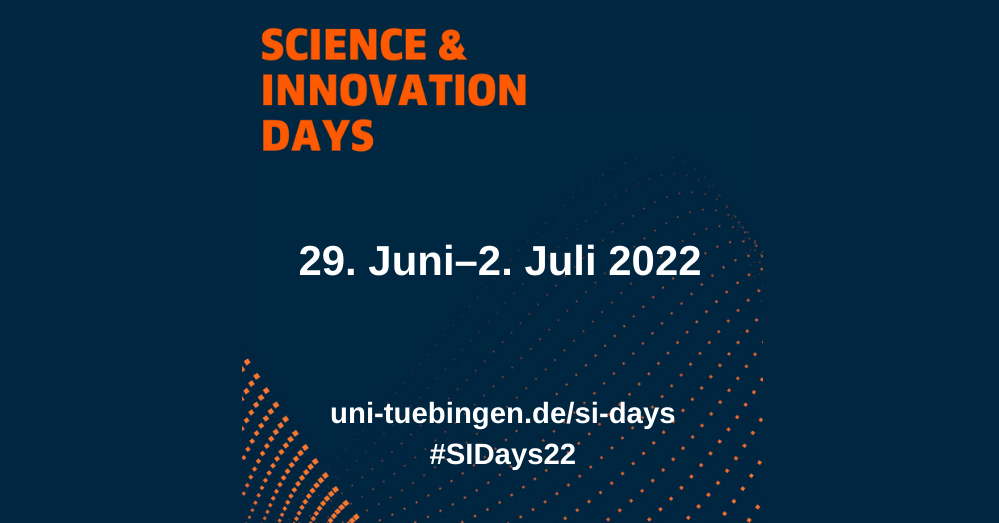 Discussing, participating and getting involved is absolutely encouraged: At the Tübingen Science & Innovation Days from June 29 to July 2, 2022, the University of Tübingen, the Max Planck Campus, Cyber Valley, the Leibniz Institute for Knowledge Media and the Technology Support Reutlingen-Tübingen will open their doors to the interested public and present their research. From lectures, interactive panel discussions, film screenings, readings, hands-on stations and workshops to walks and lab tours, a diverse program awaits you, where you can also look behind the scenes of research.
All program points are free of charge, various offers require registration.
The program will be continuously updated.
Open House on the Max Planck Campus
As part of Science & Innovation Days 2022, there will be an open day on the Max Planck Campus Tübingen on Saturday, July 2. The Max Planck Institutes for Biology, for Biological Cybernetics and for Intelligent Systems as well as the Friedrich Miescher Laboratory will present themselves to the public: we cordially invite all interested people from near and far to gain insights into current research and the work in our facilities. Tours, exhibitions and hands-on activities will focus on genetics, evolution, brain research and artificial intelligence.
The complete overview of the individual offers and events on July 2 can be found on our events page.
More Information