All Events
6 May 2021 • 14:00 - 16:00 | Virtual Event
AI in Production & Logistics
Cyber Valley Entrepreneurship Series
Short product life cycles, a growing variety of products, and a strong customer focus are only a few of the reasons behind the increasing complexity and changing dynamics of production and logistics. To succeed in today's markets, optimised and intelligent process planning and control are thus decisive. In this upcoming Cyber Valley Entrepreneurship Series event, speakers from research, industry, start-ups, and the investment community will discuss how AI can help improve quality and efficiency in production and logistics. Their presentations will be followed by a Q&A session.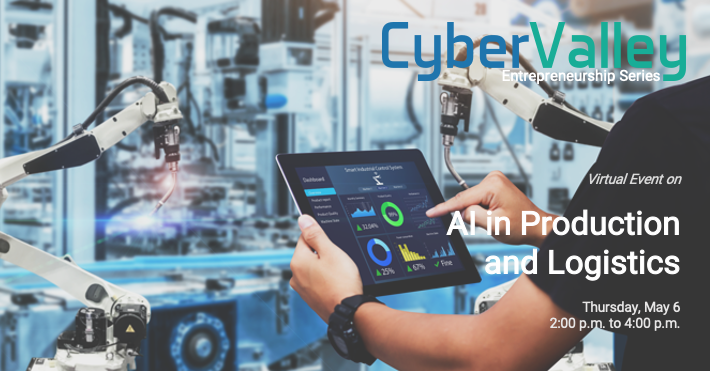 Speakers
At this event, exciting speakers incude:
Professor at University of Stuttgart and Head of Center for Cyber Cognitive Intelligence at Fraunhofer IPA
Co-Founder Smart Site Solutions GmbH
Co-Founder plus10
Vice President at Robert Bosch Venture Capital GmbH
Registration
Please register here, the meeting will be held in English on Zoom.
Contact
Oliwia Gust -  Event Manager for Cyber Valley
Phone: +49 7071 601 1554
Mobile: +49 151 4075 6302 
Mail: oliwia.gust@cyber-valley.de