All News
13 October 2021 | Tübingen
Detect diabetes with whole-body MRI
Deep learning trained with over 2000 MRI images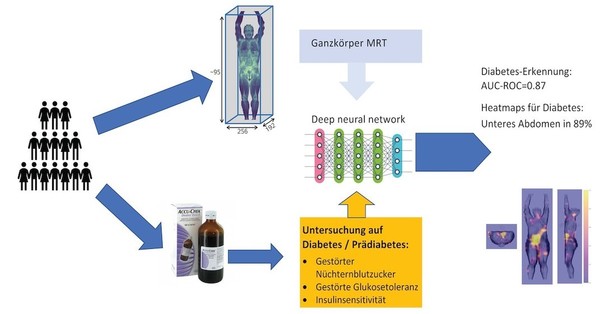 Diabetes detection from whole-body magnetic resonance imaging with deep learning. Source: DZD, JCI Insight
Whole-body magnetic resonance imaging (MRI) can be used to diagnose type 2 diabetes. This is shown in a recent study by researchers from the German Center for Diabetes Research, the Institute of Diabetes Research and Metabolic Diseases of Helmholtz Zentrum München at the University of Tübingen, the Max Planck Institute for Intelligent Systems and the University Hospital of Tübingen. They used deep learning methods and data from more than 2000 MRIs to be able to identify patients with (pre)diabetes. The results have now been published in the scientific journal JCI Insight.
Obesity and high body fat increase the risk of diabetes. But not every overweight person also develops the disease. The decisive factor is where the fat is stored in the body. If fat is stored under the skin, it is more harmless than fat in deeper areas of the abdomen (known as visceral fat). How fat is distributed throughout the body can be easily visualized with whole-body magnetic resonance imaging. "We have now investigated whether type 2 diabetes could also be diagnosed on the basis of certain patterns of body fat distribution in MRI," said last author Prof. Robert Wagner, explaining the researchers' approach.
Deep learning trained with over 2000 MRI images
To detect such patterns, the researchers used artificial intelligence (AI). They trained deep-learning (machine learning) networks with whole-body MRI scans of 2000 people who had also undergone screening with oral glucose tolerance testing (abbreviated oGTT). The oGTT, also called the sugar load test, can detect impaired glucose metabolism and diagnose diabetes. This is how AI learned to detect diabetes.
Fat accumulation in lower abdomen important clue to diabetes development
"An analysis of the model results showed that fat accumulation in the lower abdomen plays a crucial role in diabetes detection," Wagner said. Further additional analysis also showed that a proportion of people with pre-diabetes, as well as people with a diabetes subtype that can lead to kidney disease, can also be identified via MRI scans.
Researchers are now working to decipher the biological control of body fat distribution. One goal is to identify the causes of diabetes through new methods, such as the use of AI, to find better prevention and treatment options.
More Information

Related Articles
08.11.2023
AI excellence meets international reach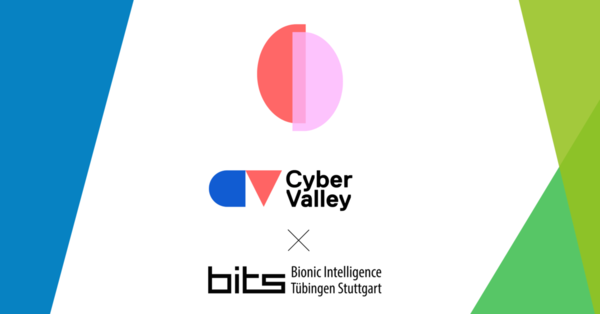 18.10.2023
Biointelligent systems for diagnosis and treatment of everyday neurological and mental ...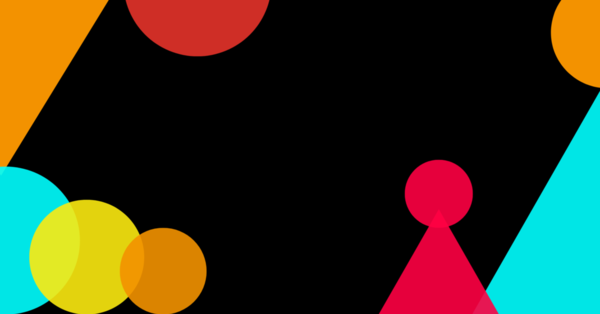 29.09.2023
Everything you need to know from the Cyber Valley Community