All Events
2 July 2022 • 10:00 - 12:00 | Max-Planck-Institut für Intelligente Systeme, Tübingen
#SIDays22 – How well does a machine understand nature?
Prediction of soil types in the Schönbuch
Machine learning and soil science: At our booth you can feel different soil types (e.g. rather sandy, loamy) with your hands and learn how soils can be distinguished and for which purposes they are suitable. On a touchscreen, you'll learn how machine learning helps predict which soil types are prevalent in certain landscape areas - and how reliable those predictions are. This is also relevant for cartography, agriculture or soil conservation. The event will be held in German.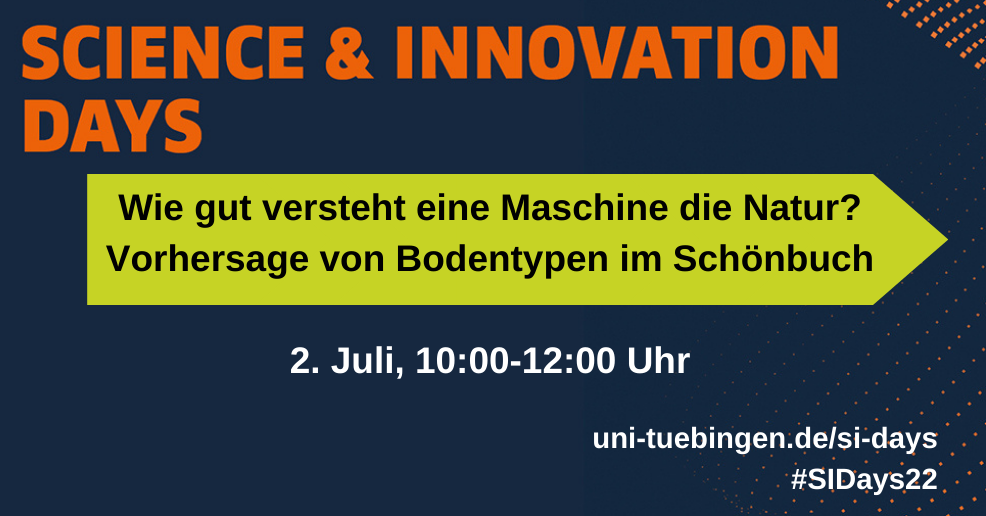 Im Rahmen der Science & Innovation Days 2022 gibt es am Samstag, 2. Juli, einen Tag der offenen Tür auf dem Max-Planck-Campus Tübingen. Die Max-Planck-Institute für Biologie, für biologische Kybernetik und für Intelligente Systeme sowie das Friedrich-Miescher-Laboratorium präsentieren sich der Öffentlichkeit: Wir laden alle Interessierten von nah und fern herzlich ein, Einblicke in die aktuelle Forschung und die Arbeit in unseren Einrichtungen zu gewinnen. Bei Rundgängen, Ausstellungen und Mitmach-Angeboten wird sich alles um die Themen Genetik, Evolution, Hirnforschung und künstliche Intelligenz drehen.