All Events
24 January 2022 • 10:00 - 12:30 | Online (Zoom)
AI and journalism
Information event for journalists
Social perceptions and reporting on AI are shaped by cultural-historical narratives as well as confronted with great expectations or dystopian scenarios. But what is actually behind the buzzword "AI"? Good journalism has the opportunity here to update outdated ideas and provide orientation with regard to new and future risks and opportunities.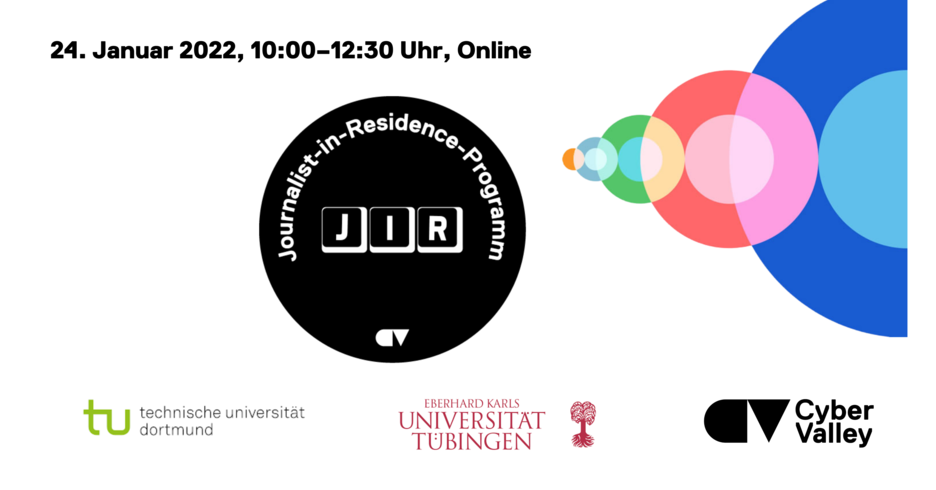 At the same time, machine learning applications in particular lend themselves to big data research, visualization or pattern recognition. They can provide orientation in an increasingly digitized world (of science), accelerate processes and make extensive sources accessible in the first place. In this way, they enable better journalism - provided they are used sensibly and carefully.
In a joint event with TU Dortmund University, speakers from the Cluster of Excellence Machine Learning for Science, the Center for Rhetorical Science Communication Research on Artificial Intelligence (RHET AI Center), and Science Media Center Germany will provide information on background and practice.

Free registration is available until January 22, 2022 here: https://zoom.us/meeting/register/tJ0qcu6srDMrGNKAw_liMRJvPeq2dcsWFVe4 (Zoom Meeting)
Program
10:00 CET: Start

Welcome and introduction
Patrick Klügel
Cyber Valley Public Engagement Manager

Keynote 1: "Reporting and discourses about AI"
Prof. Annette Leßmöllmann
Chair of Science Communication with a focus on Linguistics at the Karlsruhe Institute of Technology (KIT) and Head of Unit 1: "Discourse & Narrative" at the Center for Rhetorical Science Communication Research on Artificial Intelligence at the University of Tübingen (RHET AI Center)

Keynote 2: "An insight into the current state of development of Machine Learning and Computer Vision"
Prof. Ulrike von Luxburg
Chair of Machine Learning Methods and Spokesperson of the Cluster of Excellence Machine Learning for Science at the University of Tübingen

11:15–11:30 CET: Break

Keynote 3: "Towards AI assistants and modular content: Fields of application of AI tools in journalistic practice"
Dr. Meik Bittkowski
Head of Research and Development, Science Media Center Germany
Prof. Christina Elmer
Chair of Data Journalism at TU Dortmund University and alumna of the Journalist-in-Residence Program
Conclusion: "Information on the Cyber Valley Journalist-in-Residence Program"
Christina Elmer and Patrick Klügel
12:30 CET: End
More Information